Race for the chore: Free cleaning for everyone in one city
By Karen Cheng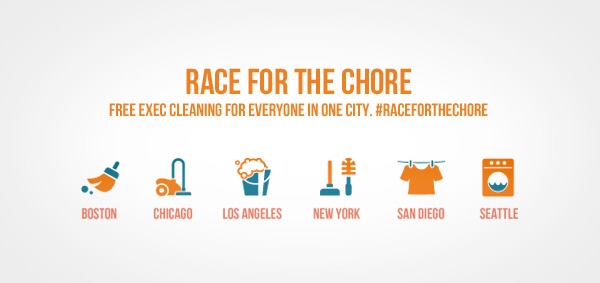 Starting today we're scrubbing, washing, and dusting in 4 new cities: Boston, LA, Chicago, and New York City. Exec Cleaning is also available in Seattle, San Diego, and the San Francisco Bay Area.
We're going to make things interesting this week - the city with the most cleanings this week gets all their cleanings for free. We're giving away free cleaning to an entire city! If you're in the city that gets the most cleanings, your cleaning is free this week. Book a cleaning now, and we'll give you a 100% refund at the end of the week. 
It's a #RaceForTheChore, and all week you can see the live race results.
Ready, set, scrub!
Posted March 13, 2013
---
comments powered by